Missed Trigger: Invitational ble for fjerde gang arrangert på Escape 17. juni. Her er metagamet og samtlige decklister.

Format og turneringsstruktur
Som resten av Open Series var formatet Modern, og som i fjor var turneringsstrukturen kompass dobbeleliminasjon med Sudden Death. I praksis spiller dette seg ut ganske likt med mindre Swiss-turneringer, men har noen fordeler blant annet ved at tap i første runde ikke like alvorlig og at ingen kamper kan gå til uavgjort.
Videodekning
Metagame
Fordelingen mellom strategi var rimelig standard, med to andeler aggro, én andel kontroll og én andel kombo. Blant de 16 spillerne var det hele 14 ulike erketyper.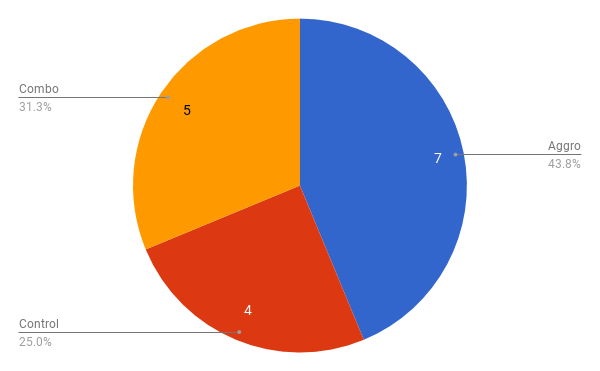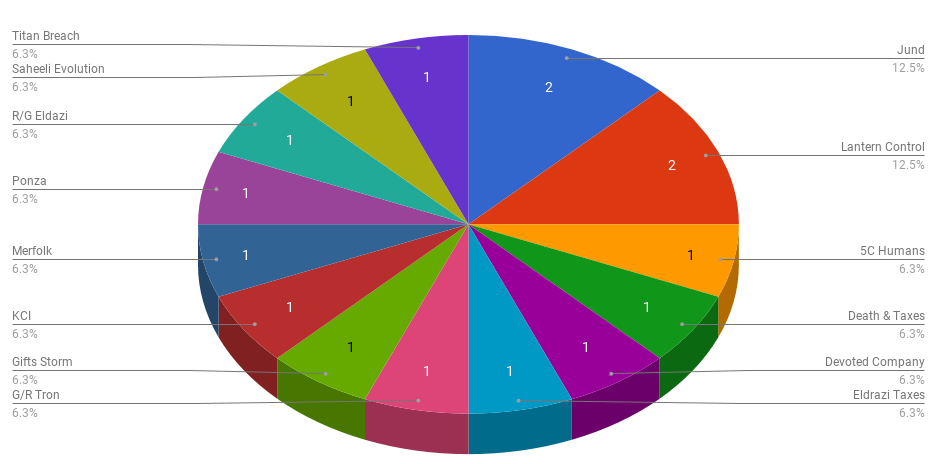 Resultater
Etter fire runder var Steffen Kipperberg-Hellandsvik ubeseiret og gikk rett til finalen. Videre var det fire spillere på 3-1 som fikk spille om den andre finaleplassen:
Steffen Kipperberg-Hellandsvik (4-0)
Michael Norderhaug Getz (3-1, WWWL)
Erlend Olav Hegni (3-1, WWLW)
Christian Bergesen (3-1, WLWW)
Erlend Kirkebø (3-1, LWWW)
Deckene i sluttspillet fordelte seg mellom to aggressive lister ved Eldrazi Taxes og Merfolk (allerede i finalen) og tre kombo-decker ved Krark-Clan Ironworks, Saheeli Evolution og Titan Breach. Ingen av turneringens fire kontrollspillere avanserte til topp fem.
Michael Getz sine eldrazier slo Erlend Kirkebøs Eldricht Evolution-liste i deres «kvartfinale» mens Erlend Hegni vant kombo-kampen mot Christian Bergesens Krark-Clan Ironworks. I «semifinalen» stod kampen mellom de hvite, svarte og fargeløse hatbjørnene og en rød-grønn ramp-deck som spiller ut hardslående giganter som Primeval Titan før tiden og deler skade fra landene sine ved hjelp av Valakut, the Molten Pinnacle. Erlends titaner gikk seirende ut.
Erlend var dermed klar for sin andre Invitational-finale, etter at han vant på Arcon i 2016. Steffen hadde på sin side gått ubeseiret gjennom de fire innledende rundene, og satt klar med sin Merfolk-liste hvor det vanlige playsettet med Spreading Seas hadde fått selskap av et playsett med mindre vanlige Spell Pierce. Trolig en metajustering som hadde hjulpet Steffen godt gjennom turneringen så langt.
I første spill gikk Erlend over Steffen ved å spille titan etterfulgt av enda en titan. Det andre spillet fikk Steffen bygget kombinasjonen av press og forstyrrelse slik at Erlend ikke fikk tid til å gjenta formelen fra første spill, og de stod dermed med en seier hver. Det avgjørende spillet ble dessverre ikke like spennende da decken til Steffen ikke samarbeidet spesielt godt. Erlend kontrollerte derfor det siste og avgjørende spillet til seier. Vi gratulerer Erlend med enda en mestertittel!
Takk for nå
Etter fire sesonger med totalt 25 Open-turneringer tar Missed Trigger Gaming: Open Series en pause. Da vi startet i 2015 var mye av motivasjonen å bygge opp det kompetitivt miljøet på Østlandet, og selv om vi har sett et fall i antall deltakere på våre turneringer den siste tiden ser vi at langt på vei har miljøet blitt større og på mange måter bedre.
Takk til alle som har spilt eller dømt turneringene, fulgt med streamen, gitt oss tilbakemelding eller på andre måter hjulpet oss på veien. Takk for nå, og god sommer.
Decklister
Titan Breach - Erlend Olav Hegni (1.)
Merfolk - Steffen Kipperberg-Hellandsvik (2.)
B/W Eldarzi Taxes - Michael Norderhaug Getz (3.)
Krark-Clan Ironworks - Christian Bergesen (4.)
Saheeli Evolution - Erlend Kirkebø (5.)
R/G Tron - Mikael Gyhagen (2-2)
U/R Gifts Storm - Nils Håkon Delphin (2-2)
Death & Taxes - Markus Sørensen (2-2)
5C Humans - Kim Krohn Berle (1-2)
Devoted Company - Andreas Sandvik (1-2)
Jund - Bernt Helland (1-2)
Jund - Ada Wasala (1-2)
Ponza - Alexander Abrosimov (0-2)
R/G Eldrazi - Tormod Lang (0-2)
Lantern Control - Martin Mauseth (0-2)
Lantern Control - Andreas Nordahl (0-2)