Søndag 29. april ble det for åttende gang arrangert Vintage-turnering på Escape. Turneringen tillot 15 proxy-er.
Elleve spillere møtte opp for å spille Vintage denne helgen. Deckene de møtte opp med hadde god variasjon i sine strategier. Det var to ulike Paradoxical Outcome-decker, hvor en var basert på å avslutte spillet ved å sette sammen Voltaic Key + Time Vault, Tinker for å putte Blightsteel Colossus rett inn i spill, eller ved lage mange tokens med Monastery Mentor, mens den andre var en storm-deck som ville avslutte spillet ved å spille Tendrils of Agony. Det var også to ulike varianter av decker med Leovold, Emissary of Trest og Oath of Druids-strategier. Alle andre strategier var representert med en kopi hver.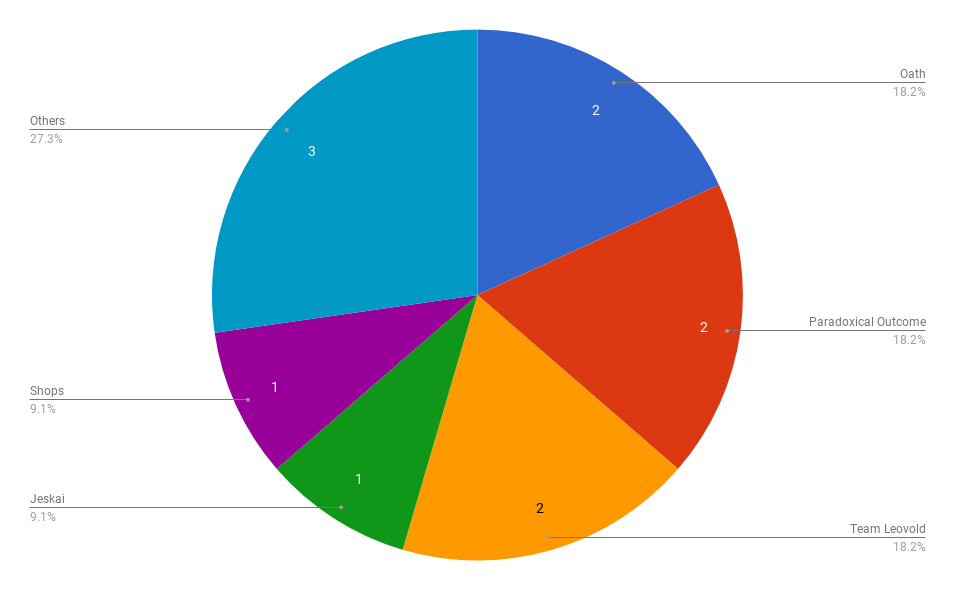 Resultat etter fire Swiss-runder
Etter fire runder swiss var det fem spillere på ni eller flere match-poeng, og opponent match wins (OMW) avgjorde derfor hvem som avanserte til topp fire.
Martin Hardselius (10p)
Christian Bergesen (9p, 56 % OMW)
Gøran Frost (9p, 50 % OMW)
Thorbjørn Lunke (9p, 48 % OMW)
Mikael Gyhagen (9p, 47 % OMW)
Sluttspill

Topp fire bestod av begge fire ulike strategier, ved Oath of Druids, Paradoxical Outcome, Mishra's Workshop og en blå control deck med Leovold, Emissary of Trest. I finalen møttes Thorbjørn Lunke på en Paradoxical Outcome-strategi mot Christian Bergesen på en Mishra's Workshop-strategi. Vi gratulerer Thorbjørn Lunke med seieren.
Neste Vintage-turnering avholdes søndag 1. juli. Vi håper å se mange der.
Decklister
Paradoxical Mentor (Thorbjørn Lunke)
Ravager Shops (Christian Bergesen)
Inferno Oath (Martin Hardselius)
Team Leovold (Gøran Frost)
Two-Card Monte (Mikael Gyhagen)
U/R Delver (Jonas van den Brink)
Paradoxical Storm (Geir Magne Flyum)
Turbo Leovold (Georg Beiske)
Salvagers Oath (Erling André Hervik)
ChannelLichsMirror (Thomas Madland)
Jeskai (Torgeir Lebesbye)