Søndag 2. juli ble det for fjerde gang arrangert Vintage-turnering på Escape. Turneringen tillot 15 proxy-er.
Til tross for sommerferie og fint vær i Oslo tok tolv personer veien til Escape denne søndagen for å spille Vintage.
Forrige turnering var den første turnering arrangert på Escape hvor Gush og Gitaxian Probe var begrenset til én kopi hver (restricted). Denne avgjørelsen fra Wizards siktet på å svekke både Monastery Mentor– og Mishra's Workshop-strategier. Det har vist seg at begge disse strategiene, samt Paradoxical Outcome-strategier er de mest spilte og mest suksessfulle etter annonseringen. Dette ser vi også i denne turneringen, hvor Monastery Mentor og Paradoxical Outcome ble representert ved henholdsvis fem og tre kopier hver.
Vi ser fortsatt ikke noe spesielt stort oppmøte av Mishra's Workshop-decker. I stedet har Eldrazi-strategier vært den foretrukne Thorn of Amethyst-decken, som også denne gangen er representert med to kopier.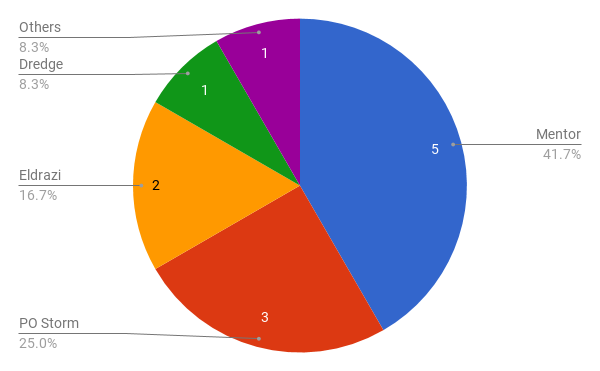 Resultat etter fem Swiss-runder
Etter fem runder swiss var det fem spillere på ti eller flere match-poeng, og topp fire ble dermed avgjort av opponent match win-prosenter (OMW).
Geir Magne Flyum (11p)
Pål Andresen (11p)
Sveinung Bjørnerud (10p, 57 % OMW)
Espen Nordahl (10p, 52 % OMW)
Thomas Madland (10p, 48 % OMW)
Sluttspill

Topp fire bestod av fire unike decks, hvor to av disse var Monastery Mentor-strategier, som skulle møtes i finalen. På veien dit vant Geir Magne Flyum på sin firefargede kontroll-deck mot Espen Nordahl på Paradoxical Outcome Storm mens Sveinung Bjørnerud på Jeskai Mentor slo Pål Andresen på White Eldrazi.
Geir Magne hadde valgt å spille en deck mer fokusert på sorte kort for å få tilgang til kraftige kort i sideboard mot Paradoxical Outcome Storm og Dredge, mens Sveinung spilte en mer tradisjonell Jeskai Mentor-deck med flere Monastery Mentor. Denne kampen var Sveinung bedre satt opp til å vinne.
Vi gratulerer Sveinung Bjørnerud med seieren. Neste Vintage-turnering på Escape vil holdes søndag 10. stepmber 2017. Vi håper å se både gamle og nye spillere der.
Decklister
Jeskai Mentor (Sveinung Bjørnerud)
4C Control (Geir Magne Flyum)
W Eldrazi (Pål Andresen)
Paradoxical Outcome Storm (Espen Nordahl)
Paradoxical Outcome Storm (Thomas Madland)
Jeskai Mentor (Andreas Sandvik)
Paradoxical Outcome Storm (Ada Weinert Ravn)
Dredge (Mikael Gyhagen)
Jeskai Mentor (Thorbjørn Lunke)
Jeskai Mentor (Torgeir Lebesbye)
Dawn of the Dead (Nils Håkon Delphin)
W Eldrazi (Andreas Nordahl)