Søndag 16. juli arrangerte Cybernetisk Selskab en Legacy-turnering på Escape etter ett års turneringspause fra formatet.
23 spillere møtte opp denne regnfulle morgenen, og det ble spilt fem runder swiss inn i et firepersons sluttspill med staples som Force of Will og Wasteland i premier.
Metagame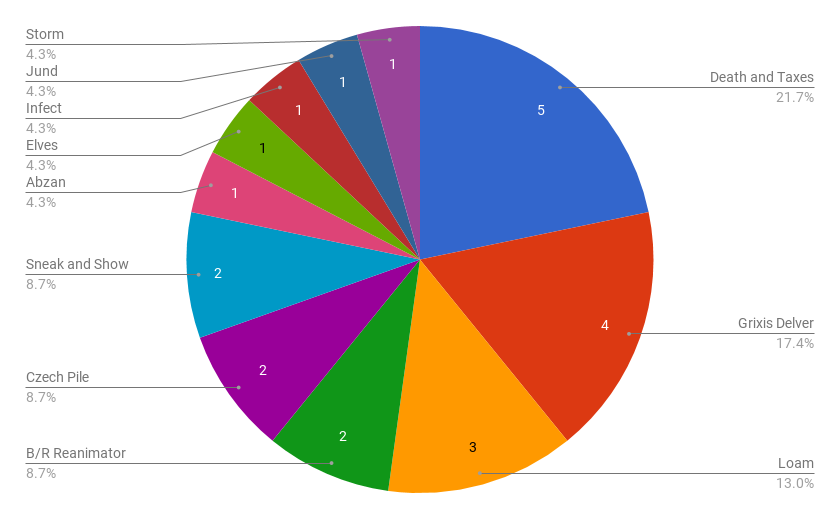 Det var litt flere decker med Thalia, Guardian of Thraben og andre «hatebears» enn vi har sett tidligere med 35 % mellom Death and Taxes og Life from the Loam-strategier kombinert, men det er ingen ekstremverdi og jevnt over er det litt av alt – noe man ofte ser i en turnering med de ikke-roterende «eternal»-formatene.
Resultat etter fem Swiss-runder
Etter fem runder swiss var det fire spillere på elleve eller flere match-poeng, og det ble dermed en «clean cut» til topp fire.
Andre Hellum (15p)
Stian Høie Østrem (12p, 57 % OMW)
Geir Magne Flyum (12p, 49 % OMW)
Simen Snellingen (11p)
Sluttspill

Det var en Grixis Delver-deck i hver av semifinalene, og i første semifinale ble det seier mot Death and Taxes mens det andre måtte se seg slått av Ad Nauseam Tendrils-varianten av Storm-decken. I finalen hadde derimot Grixis Delver-spilleren bedre hell mot Storm, og André Hellum gikk dermed seirende ut.
Decklister
Grixis Delver (André Hellum)
Grixis Delver (Stian Høie Østrem)
Ad Nauseam Tendrils (Geir Magne Flyum)
Death and Taxes (Simen Snellingen)