Søndag 30. april ble det for tredje gang arrangert Vintage-turnering på Escape. Turneringen tillot 15 proxy-er, og 15 personer møtte opp for å spille.
Det har igjen gått omtrent to måneder siden Cybernetisk Selskab arrangerte Vintage-turnering på Escape. Denne gangen møtte 15 spillere opp, som er en økning på en spiller fra forrige gang.
Siden forrige turnering har det kommet et nytt sett, Amonkhet. I tillegg har Gush og Gitaxian Probe blitt begrenset til én kopi hver (restricted). Begrunnelsen for denne avgjørelsen kan leses i denne artikkel fra Wizards.
Det var dermed mange spørsmål som skulle forsøkes å besvare denne søndagen. Ville Monastery Mentor fortsatt være den antatt beste decken i formatet? Kommer «Big Blue»-strategier – strategier som baserer seg på mana-akselerasjon og blå spells som ikke er Gush, og som ofte vil vinne ved hjelp av Time Vault, Tinker eller Yawgmoth's Will – tilbake? Eller vil Paradoxical Outcome erstatte Gush, og verden går videre som før? Hva skjer med Mishra's Workshop-decks nå som manabasen til blå decks trolig blir bedre? Og vil vi se noen nye kort fra Amonkhet?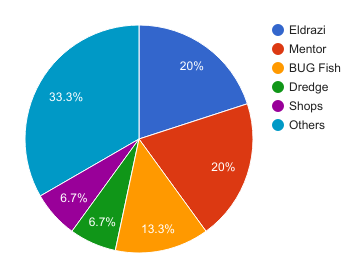 Metagamet denne gangen bestod av tre kopier av Eldrazi og Mentor. White Eldrazi vant European Vintage Championship i månedsskiftet mars/april, som kan være en medvirkende årsak til at vi ser en økning av Eldrazi i rommet. Mentor mistet både Gush og Gitaxian Probe, men fikk til gjengjeld en større og mer solid manabase som gjør decken mindre utsatt for Thorn of Amethyst-decker, og det er ikke uventet at vi fortsetter å se denne decken. Det var også to kopier av BUG Fish i rommet, mens øvrige erketyper var representert med en kopi hver.
Resultat etter fem Swiss-runder
Etter fem runder swiss var det fire spillere på ti eller flere match-poeng, og det ble dermed en «clean cut» til topp fire.
Pål Andresen (13p)
Espen Nordahl (12p, 59 % OMW)
Christian Bergesen (12p, 52 % OMW)
Mikael Gyhagen (10p)
Sluttspill

Topp fire bestod nok en gang av fire ulike erketyper. Pål Andresen på Oath møtte Mikael Gyhagen på Dredge. Dette er en match som ofte avgjøres av mengden sideboard-kort Oath-spilleren kan ta inn, hvor spesielt Elesh Norn, Grand Cenobite og Magus of the Moat er gode svar mot Dredge. Pål på sin side spilte en liste uten Griselbrand, men i stedet komboen Emrakul, the Aeons Torn og Dragon Breath for å avgjøre spillet den samme runden man får aktivertOath of Druids, uten å gi motstanderen en ekstra runde med permanenter i bordet.
Den andre semifinalen ble utspilt mellom Espen Nordahl på White Eldrazi mot Christian Bergesen på Shops. Begge disse deckene forsøker å stoppe motstanderen fra å spille spells gjennom Thorn-effekter, mens man selv vinner med å slå med dyr. Eldrazi Displacer og Thalia, Heretic Cathar er begge løsninger Eldrazi har tilgang på for å komme gjennom motstanderens dyr, og gir Eldrazi-spilleren en fordel i matchen.
Finalen mellom Dredge og White Eldrazi ble vunnet av Eldrazi-decken. Containment Priest i main deck stopper planene til Dredge, mens Thalia, Heretic Cathar gjør at Bloodghast, Ichorid og Dragonlord Kolaghan mister effekten av haste, og kjøper dermed Eldrazi-spilleren tid.
Vi gratulerer Espen Nordahl med seieren. Neste Vintage-turnering på Escape vil holdes søndag 2. juli 2017. Vi håper å se flest mulig der for å spille Vintage med oss.
Decklister
Oath (Pål Andresen)
W Eldrazi (Espen Nordahl)
Shops (Christian Bergesen)
Dredge (Mikael Gyhagen)
Big Red Machine (Geir Magne Flyum)
Jeskai Mentor (Thorbjørn Lunke)
W Eldrazi (Erlend Hegni)
W Eldrazi (Torgeir Lebesbye)
Jeskai Mentor (Andreas Sandvik)
Jeskai Mentor (Andreas Nordahl)
Dark Maverick (Lasse Eikenes)
2/1 Control (Rasmus Anker-Nilsen)
Merfolk (Steffen Kipperberg-Hellandsvik)
BUG Fish (Sveinung Bjornerud)
BUG Fish (Jon Magnus Christensen)