Søndag 12. februar ble det for andre gang arrangert en Vintage-turnering på Escape. Turneringen tillot 15 proxy-er, og 14 personer møtte opp for å spille.
Det var gått omtrent to måneder siden første Vintage-turnering ble arrangert på Escape, og det var igjen tid til å børste støvet av de eldste kortene Magic har å by på. I desember så vi et metagame hvor combo var mest spilt, tett fulgt av Mentor og Landstill, med flere nye kort fra Kaladesh. Siden den tid har Aether Revolt blitt sluppet, og vi gledet oss til å se om det nye settet hadde like stor innvirkning på formatet som Kaladesh.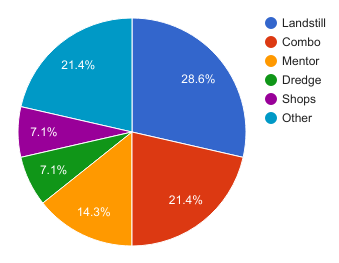 Vi opplevde også denne helgen et variert metagame, med Landstill, Combo og Mentor som de mest spilte deckene. Derimot overtok Landstill tronen for mest spilte deck over combo, med fire kopier fordelt med tre decks på U/W Landstill og en på BUGStill. Tre personer stilte med tre ulike combo decks. Disse var Painter, Steel City Vault og Dark Petition Storm. Vi hadde også to mentor-decker, hvor en spilte Paradoxical Mentor og en spilte Esper Mentor. Av andre decks var det ingen duplikater.
Til forskjell fra forrige turnering stilte begge busemenn i formatet opp. Det var en kopi av hver av Shops og Dredge. Dette er to decks som krever respekt i formatet, og som man bør ha flere dedikerte svar til i sideboard.
Resultat etter fem Swiss-runder
Etter fem runder swiss var det åtte spillere på ni eller flere match-poeng. Det ble veldig jevnt og kutten til topp fire ble avgjort på tiebreakers.
Michael Gyhagen (12p, 48 % OMW)

Geir Magne Flyum (12p, 46 % OMW)

Pål Andresen (10p)

Espen Nordahl (9p, 63 % OMW)
Sluttspill

Topp fire bestod av fire ulike arketyper. Michael Gyhagen på Dredge beseiret Espen Nordahl på Paradoxical Mentor mens Pål Andresen med Shops vant over Geir Magne Flyum på Painter. Finalen stod da mellom Dredge og Shops, hvor seieren til slutt gikk til Shops. Pål spilte en oppdatert versjon av Ravager Shops med fire kopier av nykommer Walking Ballista, som var eneste tilskudd fra Aether Revolt under denne turneringen. Vi gratulerer Pål Andresen med seieren.
Neste Vintage-turnering på Escape vil holdes søndag 30. april 2017. Vi håper å se alle igjen da, samt alle nye spillere som ønsker å dyppe tåa i formatet.
Decklister
Dredge (Michael Gyhagen)
Painter (Geir Magne Flyum)
Ravager Shops (Pål Andresen)
Paradoxical Mentor (Espen Nordahl)
U/W Standstill (Kristoffer Jonassen)
U/R Delver (Emil Moxheim)
U/W Standstill (Sveinung Bjørnerud)
Steel City Vault (Magnus de Laval)
U/W Standstill (Martin Hardselius)
JacoDrazi (Torgeir Lebesbye)
Merfolk (Nikolai Orheim)
Dark Petition Storm (Ada Ravn)
BUGStill (Marius Skjærstad)
Esper Mentor (Thorbjørn Lunke)