Modern metagame og decklister
Modern er et relativt åpent format, og det kommer tydelig frem ved at de 16 inviterte hadde tatt med seg tolv ulike erketyper.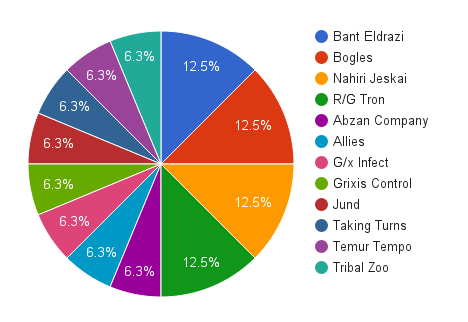 Invitational-turneringer har det særtrekket at det ofte kan dukke opp metadecker ettersom spillerfeltet er kjent, og man ofte kan gjøre seg noe relativt gode antagelser om hvilke decker man vil og ikke vil møte. Bant Eldrazi er til en viss grad en slik metadeck mens Bogles helt klart er det.
Bant Eldrazi (x2)
Bant Eldrazi er en nykommer i Modern. Decken har mange likhetstrekk med navnebroren Bant Eldrazi som dukket opp under den beryktede Eldrazi-vinteren tidligere i år, men forsvant etter at Eye of Ugin ble bannet.
Denne varianten er ikke like eksplosiv, men kan fortsatt presentere en rask klokke i form av de samme truslene vi så før banningen. Til forskjell fra tidligere varianter, spiller den som R/G Tron og Amulet Bloom-decket Ancient Stirrings for å finne spesifikke kort, og langt flere fargede kilder lar den spille removal som Path to Exile.
Bant Eldazi (Kim Krohn Berle)
Bant Eldrazi (Thomas Madland)
Bogles (x2)
Bogles (eller W/G Hexproof) er den erketypiske metadecken i Modern-formatet. I Wizards of the Coast sin egen invitational-turnering i 2013, World Championship, kom Reid Duke seg helt til finalen med Bogles i et metagame preget av Jeskai Control. StarCityGames-kommentator Cedric Philips spilte nylig Bogles under en ProTour-kvalifisering på Magic Online, vant turneringen og dermed fly og opphold for Pro Tour Eldritch Moon i Sydney rett over sommeren.
Vi ser at Lars-Petter spiller de samme 60 kortene som Cedric, og kun har gjort små justeringer på sideboardet. Geir Magne har derimot prøvd seg på en noe annerledes liste med nykommerne Open the Armory og Gryff's Boon.
Bogles (Geir Magne Flyum)
Bogles (Lars-Petter Radich)
Nahiri Jeskai (x2)
Både Andreas Nordahl og Gøran Frost er kjent for å spille blå kontroll-decker. Modern-formatet har ingen Miracles-variant som i Legacy, så dersom man liker den spillestilen ender man ofte opp med å spille Jeskai-fargene. Her har man gode kontrollkort og sterke winconditions i Nahiri, the Harbinger og Celestial Colonnade.
Nahiri, the Harbinger er en nykommer i Modern, men har fort tatt over som foretrukken wincondition. Kortet har god synergi med Emrakul, the Aeons Torn og lar deg filtre gjennom reaktive kort man ellers ikke kunne hatt i maindeck.
Nahiri Jeskai (Gøran Frost)
Nahiri Jeskai (Andreas Nordahl)
R/G Tron (x2)
Mikael og Torgeir har begge spilt R/G Tron i en årrekke. Decken fikk et godt tilskudd fra Fate Reforged i form av Ugin, the Spirit Dragon og så et kjempeløft fra Battle for Zendikar ved Ulamog, the Ceaseless Hunger, før Eye of Ugin-bannen svekket decken kraftig.
Eye of Ugin er nå byttet ut med langt svakere Sanctum of Ugin, men decken gjør det fortsatt godt og er spesielt godt mot midrange-varianter som Abzan/Jund og blå kontrolldecker som Jeskai og Grixis.
R/G Tron (Mikael Gyhagen)
R/G Tron (Torgeir Lebesbye)
Abzan Company
Etter banningen av Birthing Pod og printingen av kraftige Collected Company, har Abzan Company tatt over som formatets creature-baserte valuedeck med muligheter for å vinne med både uendelig liv og uendelig skade. Andreas har trykket decket til sitt bryst og sleevet opp disse 75 på Invitational:
Abzan Company (Andreas Sandvik)
Allies
Etter retur til Zendikar i fjor høst, har mange spekulert i mulighetene for decks basert rundt Ally-synergier i Modern. Her er summen av creaturene større enn enkeltverdiene deres lagt sammen, og man vil typisk kunne knuse andre creature-baserte decks som har mindre synergi.  Erling stilte med denne varianten:
Allies (Erling André Hervik)
G/B Infect
U/G har lenge vært veien å gå for Infect i Modern, men mange sverger nå til G/B-varianten som byr på tilgang til kraftkortene Abrupt Decay og Inquisition of Kozilek, i tillegg til Phyrexian Crusader som har beskyttelse mot to av formatets sterkeste removalspells, nemlig Lightning Bolt og Path to Exile.
G/B Infect (Erlend Olav Hegni)
Grixis Control
Grixis har fått seg flere løft det siste året med printingen av Kolaghan's Command, Pia and Kiran Nalaar, Kalitas, Traitor of Geth, Goblin Dark-Dwellers og selvfølgelig unbanningen av Ancestral Vision. Sveinung sverger til sort over hvitt i sitt kontrolldeck og har dermed tilgang på discardspells og litt annen removal enn det vi ser i Jeskai Control.
Grixis Control (Sveinung Bjørnerud)
Jund
Formatets trofaste midrangedeck som stort sett kan slå alt, men som sjelden har spesielt sterke matchups. Jund vinner gjennom interaksjon med motstander i form av discardspells og removal og belønner derfor spillere med god kjennskap til den aktuelle matchupen. Tore vant en Open med Jund tidligere i år og sverget til decket også på Invitational.
Jund (Tore Bakkland)
Taking Turns
Taking Turns er et kontrolldeck skrudd opp til elleve og forsøker å ta så mange turer som mulig med ulike Time Walk-varianter, helt til du kan vinne med en Celestial Collonade, Snapcaster-beatdown eller nok Monastery Mentor-tokens. Jan Kristian spilte følgende 75:
Taking Turns (Jan Kristian Hellan)
Temur Tempo
Temur Tempo er velkjent for alle som spiller Legacy, men har ikke etablert seg like godt i Modern. Dette er likevel et kraftig deck som har raske klokker i form av Delver of Secrets og Tarmogoyf, backet opp av billig removal og counterspells. Blood Moon ut av sideboardet kan også skape mye hodebry for motstander.
Temur Tempo (Emil Moxheim)
Tribal Zoo
Alexander sverger til creature-baserte decks i Modern, ofte basert i G/W. På Invitational valgte han like gjerne å spille alle fem farger for tilgang til Tribal Flames og de mest aggressive creaturene Modern har å by på.
Tribal Zoo (Alexander Abrosimov)
På side 1 finner du informasjon om hvem som spilte, turneringsstrukturen samt videodekning fra turneringen. Side 3 tar for seg resultatene fra hvert av formatene samt sluttspillet.