Sesongens siste Open-turnering ble avholdt på Escape søndag 22. mai. 36 spillere møtte opp for å spille et Modern-format med nylig unbannede Sword of the Meek og Ancestral Vision samt nykommeren Nahiri, the Harbinger.

Metagame
Vi ser et allsidig, fargerikt metagame med maksimalt to-tre utgaver av hver erketype. Affinity har vært godt representert på tidligere Opens og er utvilsomt en av de sterkeste kortstokkene i formatet. Det er derfor noe overraskende å se null varianter på årets siste Open. Det er printet mange gode svar mot artifacts, og svorne Affinity-spillere ser seg kanskje tvunget til å gå nye veier når et overveldende antall sideboards inneholder enten Stony Silence eller Ancient Grudge. Burn var også underrepresentert med kun én spiller denne dagen.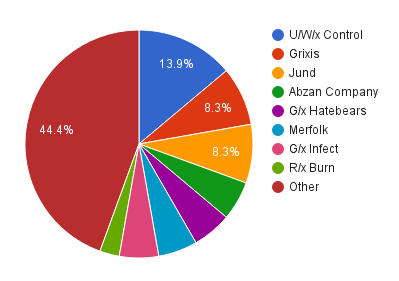 Resultater etter seks runder
Etter seks runder hadde fem spillere 12 poeng, men det var kun plass til to av dem i topp åtte:
Geir Magne Flyum (14p)
Erlend Olav Hegni (14p)
Alexander Abrosimov (14p)
Andreas Sandvik (14p)
Andreas Nordahl (13p)
Gøran Frost (13p)
Jon Magnus Christensen (12p)
Emil Moxheim (12p)
Topp åtte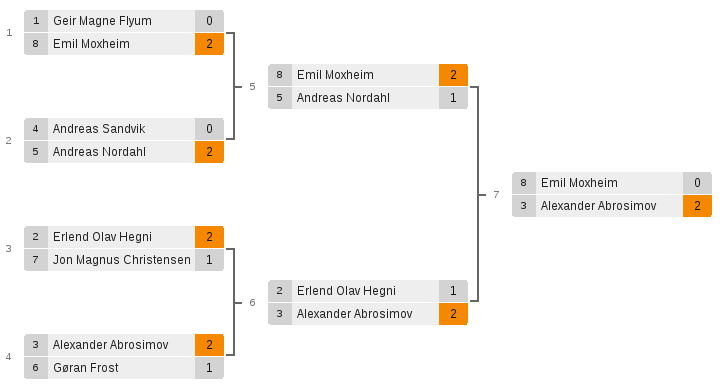 Alexander Abrosimov kom helt til finalen på forrige Invitational. Han briljerer fortsatt med nok en finale på Escape, denne gangen mot Missed Trigger-medlem Emil Moxheim. Emil spilte for anledningen R/G Tron og klarte ikke å holde følge med Alexanders W/G Hatebears. Vi gratulerer Alexander med plass på neste Invitational som avholdes på ARCON lørdag 25. juni.
Topp åtte-decklister
U/W/R/b Control (Geir Magne Flyum)
G/B Infect (Erlend Olav Hegni)
G/W Hatebears (Alexander Abrosimov)
Grixis Control (Andreas Sandvik)
Jeskai Control (Andreas Nordahl)
Grixis Reanimator (Gøran Frost)
Grixis Control (Jon Magnus Christensen)
R/G Tron (Emil Moxheim)