Decklister er analysert og digitalisert. Her er metagamet for årets første (Splinter Twin-frie) Open.

Metagame
Nylig mistet vi ivrige Modern-spillere Splinter Twin og Summer Bloom i siste oppdatering av listen over bannlyste kort. Mange spår dermed en ny høytid for R/G Tron og denne kortstokkens vanskeligste matchuper. Mens vi venter på dommen fra proffspillerne på Pro Tour Oath of the Gatewatch, tar vi i Missed Trigger tempen på vårt egne, lokale Østlands-metagame. 44 spillere til første runde. Fem erketyper ble spilt av tre eller flere spillere, men ellers var det god variasjon: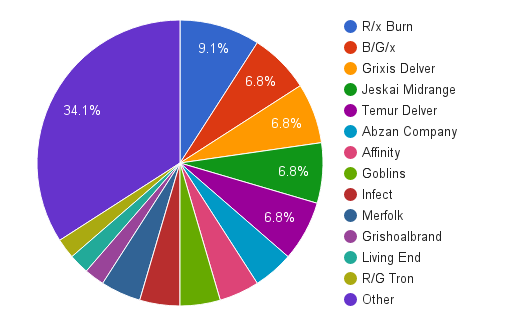 Resultater etter seks runder
Thomas Madland (7. plass) måtte dessverre videre til andre gjøremål før topp åtte, og dermed snek Geir Magne Flyum seg inn i sluttspillet:
Andreas Nordahl (16p)
Andreas Sandvik (14p)
Lars-Petter Radich (14p)
Pål Andresen (13p)
Alexander Abrosimov (13p)
Mikael Gyhagen (12p; 63,8 % OMW)
Finn Erik Sølverød (12p; 59,3 % OMW)
Geir Magne Flyum (12p; 55,6 % OMW)
Topp åtte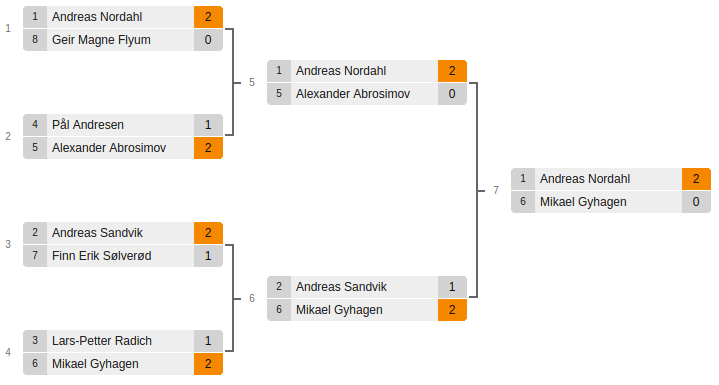 De som fulgte Open-serien i 2015 vil dra kjensel på både Andreas Nordahl, Alexander Abrosimov og Andreas Sandvik som alle tre var kvalifiserte til fjorårets Invitational.
Til slutt var det Andreas Nordahl på Jeskai Control som stod igjen som dagens vinner etter å ha karret seg gjennom den vanskelige matchupen mot Mikael Gyhagen på R/G Tron i finalen. Dette er Nordahls andre Open-seier, og han er allerede kvalifisert til Invitational i juni på grunn av seieren ved forrige Invitational-turnering i desember. Dermed får dagens andreplass, Mikael Gyhagen, invitasjonen fra denne turneringen. Vi gratulerer og ønsker alle Magic-spillere velkommen igjen til Open #2 2016 – Oath of the Gatewatch-Sealed søndag 28. februar.
Topp åtte-decklister
Jeskai Control (Andreas Nordahl)
Abzan Company (Andreas Sandvik)
Abzan (Lars-Petter Radich)
Jeskai Midrange (Pål Andresen)
Naya Zoo (Alexander Abrosimov)
R/G Tron (Mikael Gyhagen)
Abzan Company (Finn Erik Sølverød)
Infect (Geir Magne Flyum)